Oct 12, 2017, 5:45 PM ET
Is it legal for Jerry Jones to bench players who don't stand?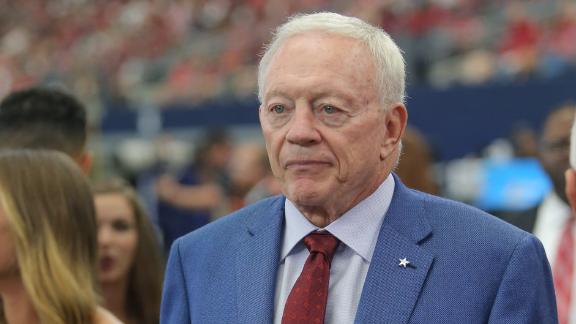 On Sunday, Dallas Cowboys owner Jerry Jones indicated that he would bench players who didn't stand for the national anthem before games. The move was applauded on Monday night by President Donald Trump, who tweeted: "A big salute to Jerry Jones, owner of the Dallas Cowboys, who will BENCH players who disrespect our Flag. 'Stand for Anthem or sit for game!'" ?
But does Jones, or any other owner, have the right to bench a player for protesting during the anthem? Could such a benching be a violation of the NFL's collective bargaining agreement or, beyond that, could it even be illegal?
For its part, the NFL Players Association issued a statement that said in part, "We should not stifle these discussions and cannot allow our rights to become subservient to the very opinions our Constitution protects." A benching of this type would certainly prompt the NFLPA to file a grievance under the CBA.
The players seem to have some built-in advantages in such a dispute. Unlike the NBA's collective bargaining agreement, the NFL CBA does not specifically require players to stand for the anthem.?There is, however, a section in the NFL Game Operations Manual that mentions that players "should stand at attention, hold helmets in their left hand and refrain from talking." And commissioner Roger Goodell sent a letter to teams on Tuesday reiterating the language.?
According to a half-dozen experts we contacted, workplace employment law may have the last word. While the experts are divided on who would win such a legal battle, our sample ruled narrowly in favor of the owners.
Charles Sullivan, professor of law, Seton Hall University: "Where I think the players have a problem is there's not really an adverse employment action if they are simply benched. They are still being paid, and I don't think they necessarily have the right to play in games."
Advantage: Owners
Paul Secunda, director, labor and employment law program, Marquette University: "I've heard a lot of fans talk about Constitutional rights. There are no First Amendment rights involved here because it's in the private, not public, sector. But I do believe that this is illegal. Section 7 of the National Labor Relations Act allows employees to engage in activities to improve workplace conditions. By telling players they can't stand for the anthem, Jerry Jones is effectively chilling such expression, which is a violation of the act."
Advantage: Players
Jeffrey M. Hirsch, professor of law, University of North Carolina: "Whether or not an owner is violating the National Labor Relations Act for benching someone due to a protest comes down to, in my opinion, what the protest is for. That's because the NLRA only protects the employer-employee relationship. So if they are protesting Trump or doing something as part of the Black Lives Matter movement, I don't think they have a case. If they are taking a knee in protest of something the owner has done to them, and it being connected to the conditions of employment, then they might have a case."
Advantage: Inconclusive
Benjamin I. Sachs, Kestnbaum Professor of Labor and Industry, Harvard University: "I think being benched is adverse employment action. I also think that the protests are in fact directly related to their status as NFL employees. If they are protesting racial discrimination, that's something that impacts their status as NFL players. So I think benching would be violating federal law. I also think the union has a case in that NFL players' contracts not only include how players are supposed to act on the field, but also off the field. You can therefore make the case that what they are doing in protesting is taking part in that civic duty."
Advantage: Players
Stewart J. Schwab, Jonathan and Ruby Zhu Professor of Law, Cornell University: "The player who does not stand can be [accused of] conduct detrimental to the public confidence in the NFL. Employment law allows private sector employers great latitude in restricting employee conduct and speech while at work."
Advantage: Owners
Michael J. Golden, lecturer, trial advocacy program, University of Texas: "In order for professional football teams to be the most competitive they can be, the CBA gives management significant rights to decide who plays and who doesn't -- and ultimately who gets cut and who gets kept. The CBA pretty much guarantees that coaches and management decide, without review, who plays and who does not. It would be lawful for the Cowboys to have a rule that only people who voted for a particular party in the last election could play for the team. While this rule might be a bad idea, it wouldn't violate the law. There are no additional Texas laws that apply here."
Advantage: Owners
News - Is it legal for Jerry Jones to bench players who don't stand?